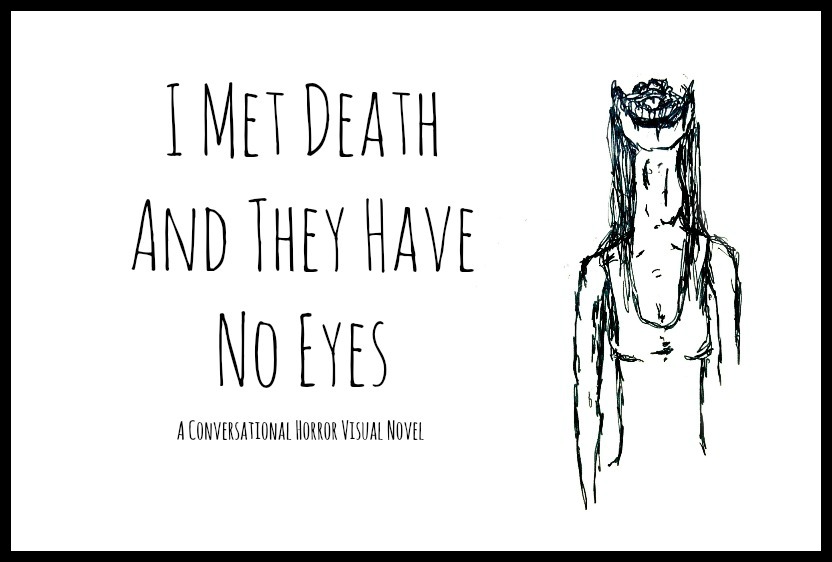 I Met Death And They Have No Eyes
A Look At Things To Come...
---
Hello!
Today we went live with our first demo for I Met Death And They Have No Eyes. Playing in Twine on the game's Itch.io page, it's still very far from completion. In it's current state, it's little more than an average Twine game. But as development continues we will be transferring all dialogue into Unity, where it will start to resemble a more traditional visual novel experience with full art, sound, and music from the fantastic Avith Ortega (You can check out his BandCamp page right here.)
This brief dialogue demo contains several diverse paths and over 5,000 words, but you won't see everything on your first time through. Some playthroughs will last a few seconds, while others can last upwards of ten minutes. Keep in mind that the story elements of the demo are also early, and subject to change.
As development continues, I will be uploading new demos and gameplay sections, as well as official art before the game's release sometime in 2018. If you like what you see, or are just interested in helping to make this dream a reality, donations are absolutely welcome; every little bit helps bring me closer to my life goal of making a video game.
Finally, I want to thank you for your interest in IMDATHNE. By releasing this very early, brief dialogue-based demo, I am hoping to give a deeper, and earlier look at the creative process than most devs. That means there are likely to be mistakes, and I am open to constructive criticism. Art will change. Entire sections will be added or taken out based on feedback. In being open about this process, I am hoping to make IMDATHNE the very best experience it can be. For further updates on the game you canfollow me on Twitter.
Thank you for your time,
-Jordan Leendertsen
Files
IMDATHNEITCHIODEMO.html
310 kB
36 days ago